New vs. Used Pontoon Boats: Everything You Need to Know

Considering new vs. used pontoon boats? There are plenty of factors you need to account for, including price, warranty, and technology. We're here to talk you through the benefits of each choice.
Why Should You Buy New Pontoon Boats?
Peace of Mind: Older pontoons boats are going to have suffered some wear and tear; even if they've been expertly cared for, being out on the water or stored for winter is going to take its toll. With a new boat, you'll know every part is free from issues and you won't need to worry about a potentially poor maintenance history.
Style: What's brand-new often looks more stylish than what's a few years old. Nothing beats a shiny new watercraft.
Custom-Made Flexibility: Buying new means getting exactly what you want from the latest tech and outfitting your new boat exactly how you want it right off the bat.
Warranty Backed: If you need any repairs in the next year or two, they should be covered by your warranty, so you're unlikely to be confronted by high bills.
Why Should You Buy Used Pontoon Boats?
Price: The big positive when it comes to buying used is always going to be price. Like cars, pontoon boats depreciate significantly over the first year or two, so you could save around 25% to 33% just by picking up a boat that's already been out for a few seasons.
Relaxation: You might think wear is bad, but it's sometimes nice not to be the first person to put a little ding or scratch on the hull. Cruise easy without worrying.
Time-Tested: Finally, keep in mind that everything aboard a used craft will be time-tested. That covers everything from the engine to the onboard technology.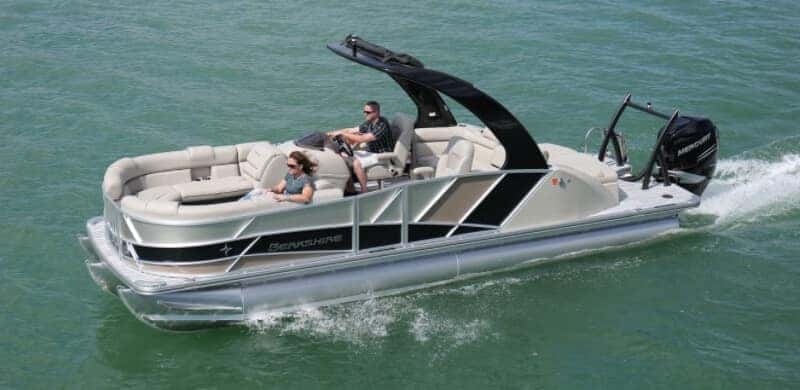 Find New and Used Pontoon Boats at Don Johnson Motors
Whether you're a Rice Lake family looking for a used pontoon boat or a resident of Hayward or Cumberland seeking out a shiny new model, simply pay a visit to Don Johnson Motors to see what's available. We're always happy to help you find the perfect fit.