Chevrolet MyLink Setup

If you've bought a new vehicle with Chevrolet MyLink, congratulations! Now you need to get your smartphone connected so you can take advantage of all the fun features you have at your fingertips. Read on for a quick overview of what your Chevy MyLink system can do and how you can customize your home screen, so your favorite applications are easy to find and use when you want them.
Getting Connected
Turn on the vehicle and in-dash touchscreen radio. Make sure your Bluetooth is on and your phone is discoverable (or use the USB connection), then follow these steps:
Press the phone button on the MyLink Screen.
Select "Pair Device."
Select "Chevy MyLink" from the phone's Bluetooth menu.
Your phone will display a message with a pin number — enter this number into the vehicle's touchscreen.
Push the "Yes" button on the MyLink screen.
You're set! You can now access your phone's address book, music, messaging, and, if you have an iPhone, Siri Eyes Free for hands-free infotainment control. This system makes it easier for drivers to ask for directions to that new Hayward hotspot without taking their eyes off the road.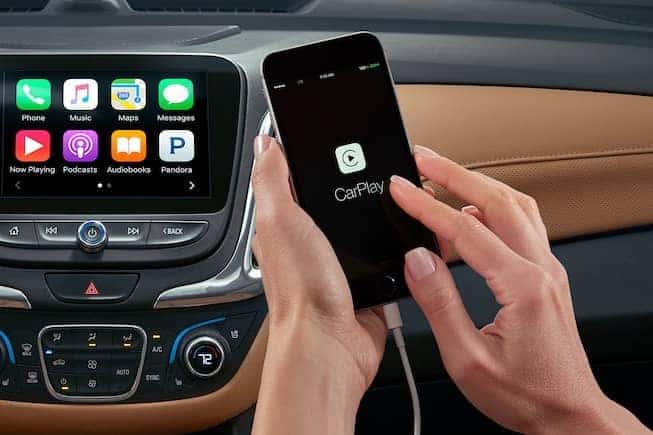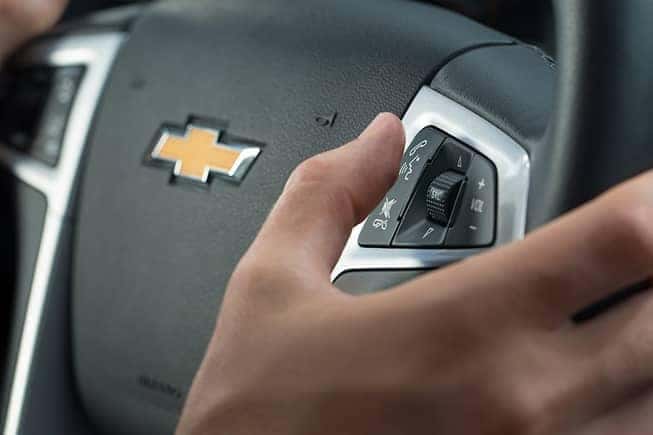 How to Add Apps to Chevy MyLink
Chevy MyLink can also be customized to include a variety of apps that make getting up-to-date music, news, weather, and information simple. All drivers need do is connect to the OnStar 4G LTE wireless service or another mobile hotspot and press the SHOP icon to browse through the available apps compatible with their system. They can then choose their favorites and download them directly to the Chevy MyLink system. After download, apps can be arranged by simply holding the icon to enter EDIT mode and dragging the application to the desired location, just as you would on your smartphone screen. The same method can be used to delete certain applications, such as those you've downloaded by accident.
How Do I Update My Chevy MyLink?
Wondering how to perform a Chevy MyLink update? It's actually quite simple. The system should update on its own each time you turn the vehicle on. There is no Chevy MyLink update download required. Most drivers will not have any issues with updating the Chevy MyLink system. However, if there are any issues, do not hesitate to reach out to the service department at Don Johnson Motors.
What if Chevy MyLink is Not Working?
Are you encountering issues with your Chevy MyLink system? From Bluetooth or audio issues to volume or voice commands malfunctioning, we've got some common ways MyLink can malfunction along with some troubleshooting tips:
Chevy MyLink Bluetooth Audio Not Working: If you find that your Chevy MyLink Bluetooth audio streaming isn't working, then the first thing you'll want to do is ensure that you do a soft reset of your phone. Sometimes, that can cause glitches. You can also try turning the vehicle off and back on. Next, ensure you have the latest software installed on your phone (MyLink should update automatically). If that still doesn't work, we recommend deleting your phone from your preferred devices list and re-pairing. That should fix the issue.
Chevy MyLink Voice Commands Not Working: Ensure that your phonebook information is downloaded. If not, when you try to dial by name, your voice command system will not know who you're referring to. If that's done, there could be an issue with interior noise. Ensure that when you try voice commands, the cabin is quiet and air vents are directed away from the microphone. If all else fails, we recommend scheduling service at one of our service centers to get your MyLink system looked at by one of our GM-trained technicians.
Chevy MyLink Volume Not Working: Try restarting the car. If the volume continues to be unresponsive, you could be dealing with a physically-damaged volume knob, which we can help you fix at Don Johnson Motors.
Popular Apps on Chevrolet MyLink
Chevy MyLink works with Apple CarPlay and Android Auto. Wondering how to add an app on Chevrolet MyLink? All you have to do is connect to the internet with OnStar 4G LTE wireless service or a different mobile hotspot. Once you do, press "SHOP." By doing so, you will have a wide selection of apps to choose from, including:
SiriusXM®
Pandora®
Stitcher for Podcasts™
See Chevy MyLink in Action at Our Northwestern Wisconsin Dealerships
To learn more about the Chevrolet MyLink interactive audio and infotainment system, stop by one of the Don Johnson Motors locations in Rice Lake, Hayward, or Cumberland, WI and take a new Chevrolet out for a test drive. While you're at it, why don't you learn a little bit more about the myChevrolet mobile app? We think you'll love the freedom it brings you.