Don Johnson Motors Builds New Ford and FCA Facility in Cumberland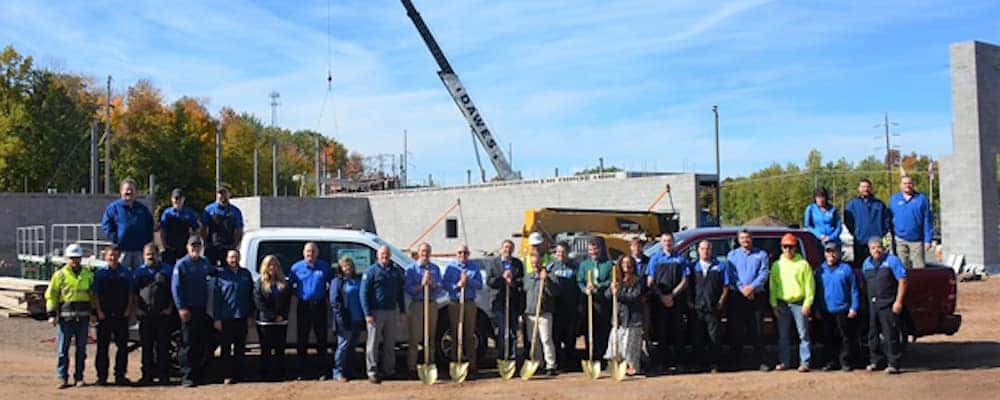 Don Johnson Motors recently broke new ground a facility in Cumberland, Wisconsin that will be devoted to new Ford and FCA (Chrysler, Dodge, Jeep, and Ram) vehicles. The 33,000-square-foot showroom is being constructed adjacent to the current Cumberland facility to provide maximum convenience for both customers and staff.
A More Customer-Centric Experience
Everything about the new facility is being built with the customer in mind. The all-glass exterior and updated signage will be inviting, showing off the inside of the dealership and provide lots of natural light, but this state-of-the-art building is being constructed with more than just looks in mind.
Everything about the new Don Johnson Motors Cumberland location has been conceived with the customer in mind. The heated drive-in service reception will make getting your oil changed in the wintertime much more pleasant, for instance. And even if you have to wait at the dealership for a bit, you'll be able to do so in a fully-feature customer lounge outfitted with a complimentary beverage bar, free wi-fi access, iPads open for use, and a massive 70-inch television. There will even be a dedicated children's play area to keep the little ones occupied while you wait.
Citing a dedication to satisfying guests, Josh Johnson, CEO of Don Johnson Motors, said that "[we] have specifically designed this facility to provide the best dealership experience possible."
This feeds into the Don Johnson Motors ethos of making the customer experience as pleasant and pressure-free as possible. It starts with a non-commissioned sales staff, and the ambiance of the new vaulted showroom will give everyone plenty of space and natural light in which to appreciate the vehicles on display. Everything else is in the way we treat our guests: with respect, and a commitment to addressing their needs.
Giving Back to the Community: a Space to Meet
The new facility is about more than just selling and servicing vehicles — it will also feature a Community Room that will be available for free use by non-profit organization on a 24/7 basis. With whiteboards, wi-fi, a large-screen tv with teleconferencing computer-connection capabilities, and even a kitchen area, this space has everything necessary for a productive meeting. The new Community Room is being constructed to fill the void of productive, affordable meeting spaces for nonprofits in Barron County and the surrounding communities.
Now Hiring all Positions!
Don Johnson Motors is nothing without its people, and this new expansions has created a need for more members of the team. There are positions available throughout the business, including sales, service, collision repair, parts, and accounting. You can apply online.
Don Johnson Motors is Dedicated to Northwest Wisconsin
We're nothing without our customers, and we're dedicated to providing the best experience possible on a consistent basis. Our new Community Room is just one way we're giving back to the community. Contact us today to learn more about our new facility and our community initiatives.