The Moab Easter Jeep Safari

Jeep and Mopar come together each year for the Easter Jeep Safari, in Moab, Utah. This year, from March 24 to April 1, 2018, they brought along some tricked-out Jeeps to show off. The event focuses on pushing the vehicles to their limits through technical off-road rides throughout a beautiful landscape. This year, Jeep and Mopar unveiled seven stunning custom Jeeps.
Lightweight Jeep 4SPEED
The Jeep 4SPEED is all about one thing: cutting weight. With carbon fiber making up the hood and rear tub, the 2.0L turbocharged l-4 engine can really make this thing zoom. 35-inch tires help grip the terrain, while custom panels and seats line the interior. A "blown back" front windshield adds to the sleek design. This Jeep rides high and feels light.
Tricked-Out Nacho Jeep
Aptly named due to its striking color, the Nacho Jeep is a showcase of what Mopar and Jeep can deck out a car with. Round-tube doors, a winch kit, and a satin black grille, among other things, are all easily visible against the vibrant paint job. Katzkin seats liven up the interior once you're done taking in all the features showcased on the exterior.
Baja-Inspired Sandstorm
An example of power and beauty, the Sandstorm boasts a 6.4L V8 alongside gorgeous exterior pieces like a vented carbon fiber hood. Both front and rear axles have been moved, creating a longer wheelbase for better stability at high speed. A heavy-duty suspension allows for a ride capable of handling most terrains. Leather seats up front and racing bucket seats in the rear allow comfort at both fronts.
J-Wagon Offers City and Trail Drivability
Molded from the Wrangler Sahara, the J-Wagon features a luxurious interior and a rugged exterior. A hood cutout is primed for an optional snorkel beside 5-inch LED lights and a beautiful Mopar black grille. Orange accents offer a bit of flash around the grey paint job. Built to offer comfort and versatility, the J-Wagon offers performance on both city and trail roads.
Off-Road Optimality is Alive in the Jeep B-Ute
With a roof rack, a 1.5-inch lift kit, and 17 inch wheels, the B-Ute is more than off-road ready. Wider fender flares and new front and rear fascias accentuate the exterior, along with a new grille area. The interior features custom trimmed seats, Mopar all-weather floor mats, and vent and speaker surrounds. A nine-speed automatic transmission is bolstered by a 2.4L Tigershark engine.
Retro Meets Modern in the Jeepster
Designed off the Wrangler Rubicon, the Jeepster stands out with its two-tone paint job and boxy look. 2.5-inch diameter aluminum body shocks and a 2-inch lift kit go hand-in-hand with the oversized 37 inch tires to make it off-road ready. With the spare tire relocated inside, storage packs are available in the rear. Inside, you'll find a tubular roll cage alongside Katzkin leather seats and a nice red instrument panel.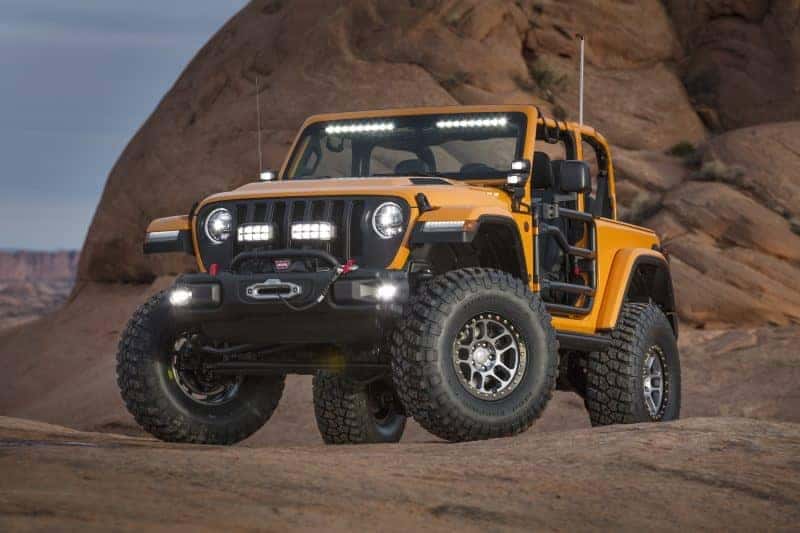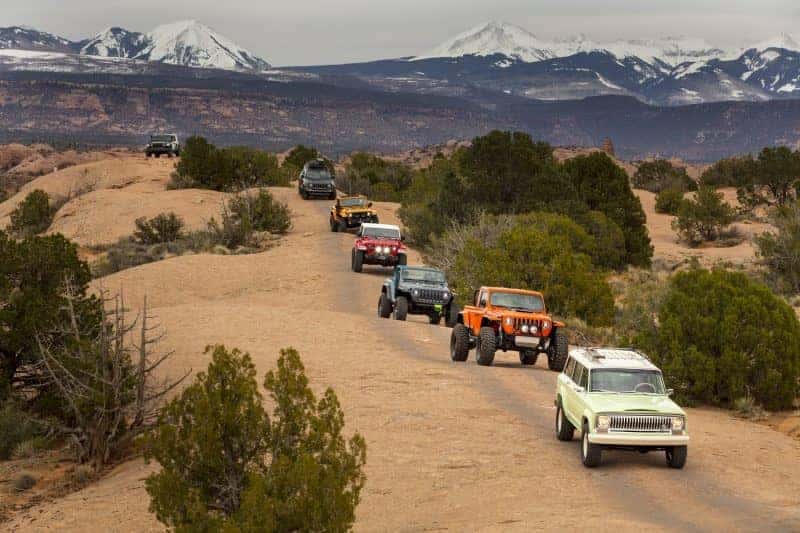 Be Open Road Ready With the Jeep Wagoneer Roadtrip
An elongated wheelbase, wider track, and custom fender flares allow the Wagoneer Roadtrip to conquer the trails comfortably. Faithful to the 1965 Wagoneer, this concept features retains the original steel body. Modern four-link suspension and rich, leather bench seats bring it to the modern days. It also features a custom cooler and toolbox. The 5.7L V8 will help push this tricked-out Jeep along, wherever you choose to take it.
Drive New Jeep Models At Don Johnson Motors
Have these tricked-out Jeeps piqued your interest? Are you near Cumberland, Hayward, or Rice Lake and interested in a new Jeep? If you're ready to start talking about it, reach out to us with any questions. With everything from parts and accessories, to finance and information, we have what you need at Don Johnson Motors.