2019 Ford Ranger MPG and Efficiency Features

If you've been searching for information on 2019 Ford Ranger mpg, you're certainly not the only one! After all, we're talking about the vehicle that Car and Driver called "the new mid-size-truck efficiency champion," after they studied its EPA fuel economy estimates.
What is the Fuel Economy of a 2019 Ford Ranger?
So, what is the Ford Ranger efficiency rating? Although every model delivers impressive performance, precise estimates for your vehicle will vary depending on the configuration that you select.
Every 2019 Ford Ranger receives a Turbocharged 2.3-Liter EcoBoost® Inline 4-Cylinder engine. However, all trim levels may be equipped with either rear-wheel drive (standard) or four-wheel drive (optional). Here are the efficiency ratings for each drivetrain:
2019 Ford Ranger with Rear-Wheel Drive

21 mpg city, 26 mpg highway, 23 mpg combined

2019 Ford Ranger with Four-Wheel Drive

20 mpg city, 24 mpg highway, 22 mpg combined
Each Ranger trim delivers impressive utility with 270 horsepower, 310 lb-ft of torque, and a maximum towing capacity of 7,500 pounds.
If you think you require a model with a little more power, and you're willing to settle for slightly lower mileage ratings, why not find out how the Ranger compares to its larger cousin, the 2019 Ford F-150?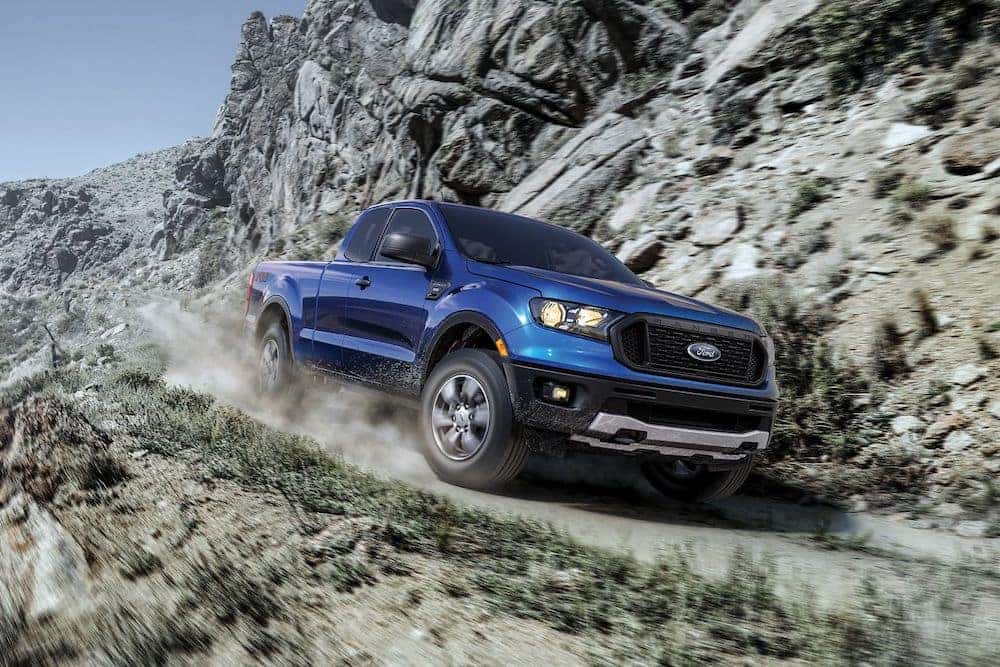 What are the Ford Ranger Efficiency Features?
The Ford Ranger manages to beat all of its rivals, according to official estimates. We'd understand if you were surprised, but there's nothing magical about this pickup truck's remarkable success.
Models include the following standard efficiency features to help you minimize fuel consumption on the roads near :
Automatic Start-Stop Technology: Most trucks continuously burn fuel, even when they're stalled in city traffic. With standard automatic start-stop, your engine will stop whenever you do.
EcoBoost® Engine: Every Ranger receives an EcoBoost® engines. Although it features an efficient 4-cylinder design, it's been paired with a turbocharger. The result is a smarter engine that still delivers the horsepower and torque ratings you expect from a midsize truck.
Electronic 10-Speed SelectShift® Transmission: A standard 10-speed transmission allows your truck to exercise tighter control over its RPMs. With ten gears to shift through, you'll almost always be operating at the level that gives you the best fuel economy in the situation.
Find Your New Ford Ranger in Northwest Wisconsin!
If you're on the hunt for new Ford models for sale in northwest Wisconsin, you'll find plenty of exciting and well-priced options at Don Johnson Motors, near Hayward and Cumberland. Take a look at your options today, then contact us to set up a test drive in the new Ranger of your choice. Still doing research? Find out how the Ranger measures up against the Toyota Tacoma.
More About the 2019 Ranger
The 2019 Ford Ranger pickup truck can do it all! Whether you're out to tow heavy equipment or you're hoping to break free from the pavement, you'll love what it can do to improve your daily drives. However, just about every driver we know needs to be able to carry lots of cargo without hooking…

When measured according to SAE J2807 standards, the 2019 Ford Ranger towing capacity tops out at 7,500 pounds! That makes it one of the top performers in the competitive midsize truck segment. It can handle an impressive 3,500 pounds without upgrades, and since the Trailer Tow package is available across the lineup, it's easy to…

If you've been searching for information on 2019 Ford Ranger mpg, you're certainly not the only one! After all, we're talking about the vehicle that Car and Driver called "the new mid-size-truck efficiency champion," after they studied its EPA fuel economy estimates. New Ford Inventory 2019 Ranger Details What is the Fuel Economy of a…