What Determines Pontoon Boat Costs?

There are a handful of factors that determine overall pontoon boat costs. Beyond just the name brand, there are several aspects of the boat itself that affect price. According to Pontoon Enthusiast, the key factors are:
Size
Quality
Features
Engine
All of the above factors can also be refined and upgraded, further adding to the overall cost of the pontoon boat. Not surprisingly, bigger and more stylish models translate to higher pontoon boat prices. Having a larger engine will bump the price, just as having a larger deck will as well. On average, new Pontoon boats cost between $30,000 and $40,000, but you can find them for as low as $20,000 or as high as $60,000.
So what separates high-end from more budget friendly Pontoon boats? And what affects their trade value? Let's look.
High-End vs. Budget Pontoon Boats
Higher-end Pontoon boats generally take what base models have and bolster them with more features. On top-of-the-line models, which range from $50,000 all the way upwards of $100,000, you can expect to find such features as:
Custom layouts and trim
More seating
Stainless steel railings
A bevy of luxury features, like audio systems
More powerful engines
If you're looking to spend less, and still get a fantastic Pontoon boat to enjoy, the mid-to-budget-level boats still offer a wide-range of options that will give you plenty of things to enjoy on the lakes around Hayward and Cumberland. Within the price range of $20,000 to $40,000, you can expect to find:
A full slew of amenities and accessories
Plentiful seating
Base layouts
A smaller, but powerful performance engine
Shorter, smaller models that perform reliably
As you can see, no matter how much you are willing to spend, you'll find a great amount of features and benefits across all price ranges. Pontoon boat price is greatly affected by much more than just the model, as features and amenities make a big difference.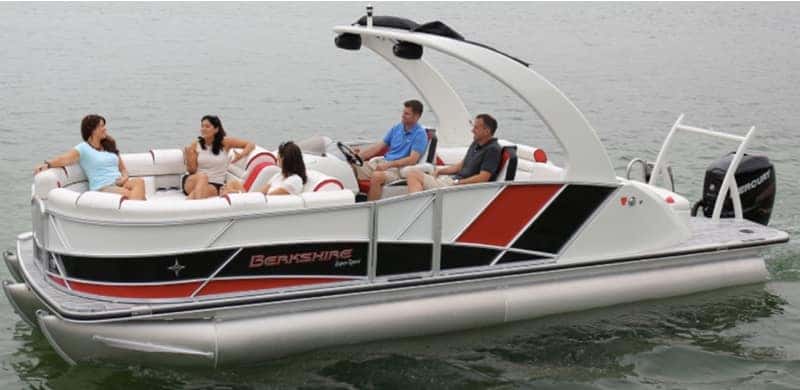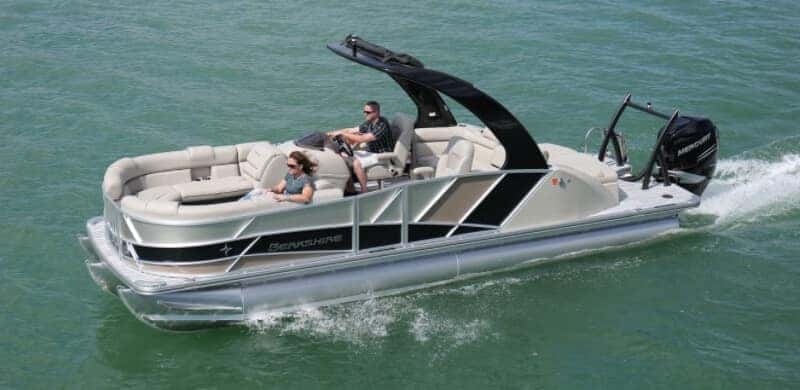 The Berkshire Difference
Berkshire Pontoon boats are a symbol of performance, affordability, and style. Berkshire offers you plenty to love, no matter which model you choose. If you're comparing models like the Berkshire STS vs. CTS, you'll find that both have great features at a fair price. Compared to the competition, Berkshire stands out from competitors like Bennington, which is no surprise given that Berkshire boats are known for:
Style and substance
Excellent performance standards
Better fuel consumption
Comfort, durability, and agility
Exceptional service and loads of accessories
Whether you're looking to buy for the first time or ready for an upgrade, you can't go wrong with Berkshire. They're a step ahead of the competition.
Check Out Berkshire Pontoon Boats at Don Johnson Motors
Ready to dive into the world of Pontoon boats? If you're near Rice Lake, Hayward, or Cumberland, visit your nearest Don Johnson Motors to come see our stock of Berkshire Pontoon boats. If you have any questions beforehand, feel free to contact us.