Why Should You Rotate Tires?


Why rotate tires? The answer is far from complex: Rotation ensures that you get the maximum value from each of your tires. Under normal circumstances, your vehicle's drivetrain will wear down your tires at different rates. With rotation at regular intervals, they'll wear out more slowly, and at the same pace. Learn more and find out how often to rotate tires with Don Johnson Motors, today.
---
What Does Rotating Your Tires Do?
We've already pointed out that regular rotation will help to extend the lifespan of your tires. However, there are several other benefits that deserve your attention:
By spreading out wear and tear, tire rotation allows you to enjoy increased traction on the roads near Hayward and Cumberland, which can be especially helpful in icy conditions.
Rotation changes the way that your tires make contact with your brakes. So, in addition to reducing the wear on your tires, rotation will also increase the lifespan of your brake pads.
If you don't rotate your tires, the wheels that receive the most energy will wear down rapidly. And when some of your tires are stronger than others, you might think that you should wait to replace all four at the same time! Regular rotation can help you avoid dangerous blowouts or flat tires.
So, what does rotating tires do? In addition to helping your tires last longer, the process ensures a safer, more rewarding drive.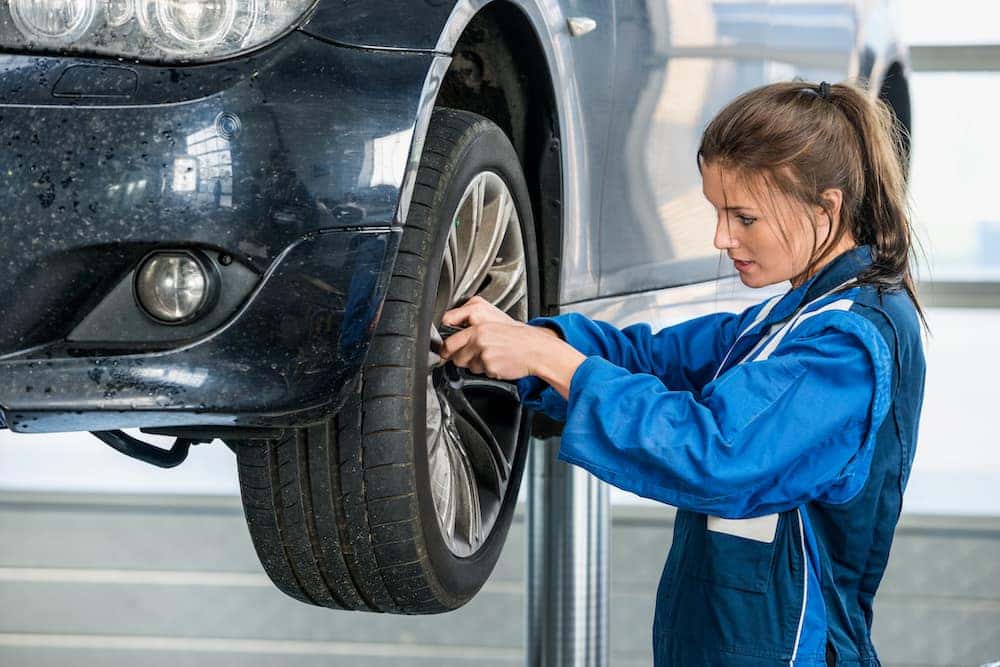 ---
How Does Drivetrain Affect Tire Rotation?
Few drivers give much thought to their vehicle's tires, but since they're the only thing standing between your vehicle and the road, they'll tend to take a beating as you drive around the Rice Lake area. The type of drivetrain in your vehicle will play a big part in determining how much wear and tear you accrue, and which tires wear the quickest:
If you own a vehicle with front-wheel drive, your front wheels will be responsible for steering the vehicle, and they'll also do most of the braking. As a result, they'll wear out the fastest.
With a rear-wheel-drive vehicle, your front wheels will still do most of the steering and braking, even though power is directed towards the rear. So, wear and tear tends to be more evenly distributed.
All-wheel-drive vehicles direct power to all four wheels, though not at the same rates. Most experts agree that the rear wheels will tend to wear out more quickly, but to be sure, you should check with a service expert who knows your vehicle.
Today's all-wheel-drive systems are increasingly intelligent. In some cases, power might be directed to one wheel at a time, helping you take corners more sharply and maintain control. So, once more, you should check with an expert to learn more about wear and tear on your vehicle.
Most importantly, the drivetrain in your vehicle will affect your tire rotation frequency. So, drivers wondering how often to rotate tires should keep these simple guidelines in mind:
For front-wheel drive and rear-wheel drive vehicles, it's appropriate to rotate your tires once every 5,000 to 6,000 miles, or whenever you have your oil changed.
For all-wheel-drive vehicles, your tire rotation frequency will vary depending on the unique characteristics of your drivetrain. In general, a 3,000 to 5,000-mile interval will be appropriate, but you can always check your owner's manual for details.
---
Get Your Tire Service from Don Johnson Motors!
Are you due for your next tire rotation? Now that you know why you should rotate tires, we hope that you'd be eager to schedule tire service. Just make sure to check out our rotating service specials and tire rotation coupons before you do!
Interested in learning more about proper tire care? Get the facts on wheel alignment vs. wheel balancing with the experts on our team. We can also tell you more about how often to change your oil.
---
More From Don Johnson Motors
It's that time of year when there's a nip in the air, beautiful colors on every tree, and lots of fall fun to be had. The pumpkin patches near Rice Lake have it all, from hay rides to corn mazes and animal petting zoos. Take a break from football and bring the whole family out to…

There are truck bed sizes, and truck bed dimensions and each is a little different from the other. The dimensions, or measurements, of a truck bed will depend on the size you choose. Common truck bed size options include short beds, standard beds, or long beds. Don Johnson Motors is here to help you choose the right…

It's no secret that the Chevy Silverado is one of America's most-revered vehicles. Indeed, here in greater Wisconsin, many of us pride ourselves on our brand loyalty. Sometimes, an upgrade is simply nice. Well, in the case of the 2022 Silverado vs. 2021 Silverado, you'll be glad to know that this truck delivers the…