When to Change Oil in Your Car: A Guide Brought to You by Don Johnson Motors
Keeping up with regular oil changes is important if you want your vehicle to run smoothly for many years to come. You may be wondering how often to change oil. Years ago, it was recommended that drivers bring their vehicle in for an oil change every 3,000 miles. However, because there have been so many advancements in automotive technology and motor oil quality, this task does not have to be performed as often.  Today, most vehicles can go around 7,500 and 10,000 miles between oil changes. To learn how often to change the oil for your particular make and model, it is a good idea to consult your owner's manual or call the experts here at the Don Johnson Motors service center at (715) 475-1473.
---
Oil Change Frequency Recommendations
Not sure how long to wait to change oil? Getting an oil change every 7,500 to 10,000 miles is acceptable for most vehicles. Still, there may be outside factors that affect how often this service should be performed. If any of these circumstances apply to you, you should know that the recommended interval for when to change your oil at Don Johnson Motors will be much more frequent:
Commercial use
Off-roading
Heavy towing
Racing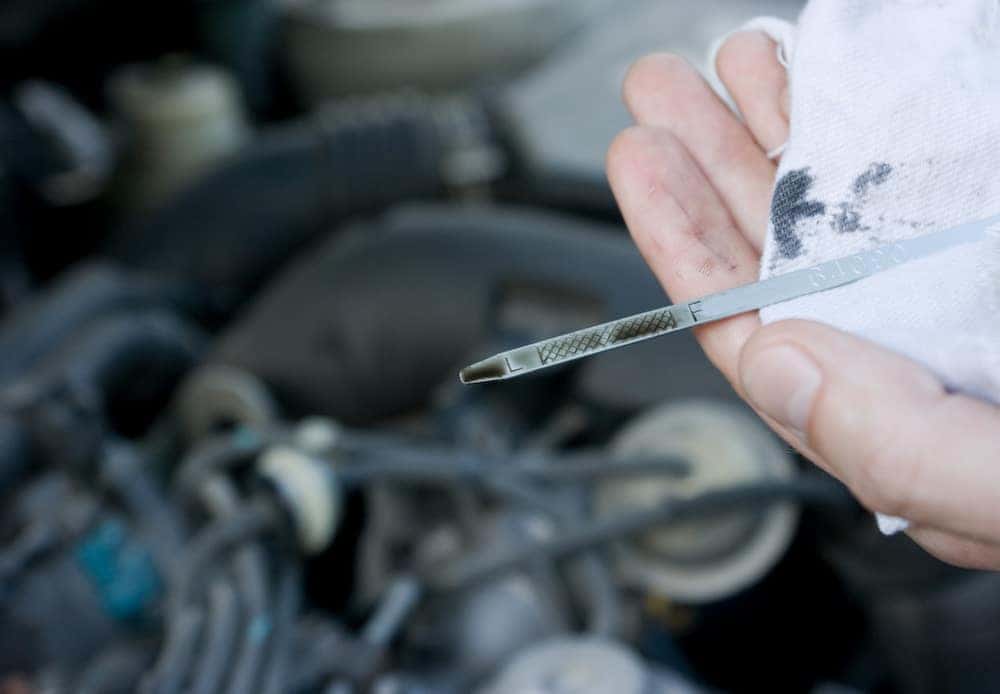 ---
Additional Tips on When to Change Oil
There are a few more things drivers in the Rice Lake and Hayward areas should know before getting an oil change:
Your vehicle should have an oil change at least twice a year, even if you rarely drive the car. Oil breaks down over time, and this happens even when the car is not in use.
At the time of an oil change, the oil filter should also be replaced. You can always stop by the parts department at Don Johnson Motors for an oil filter if you're doing a DIY oil change.
If you are debating whether to opt for synthetic or conventional motor oil, once again take a look at your owner's manual. Some vehicles require synthetic oil. Is yours one of them?
---
How Often Should I Check My Oil Level?
In addition to knowing how often to change your oil, you also need to know how often to check your oil level. It is a good idea to check your oil level at least once a month. That way, you can catch any leaks before they become a major issue. If your vehicle does not have enough oil, it can lead to costly repairs down the road. Be sure to check for any change to your oil's color, as well as the appearance of any metal particles in the oil. These can also be indicators that there could be a larger problem. If you notice these issues, set up a service appointment as soon as possible.
---
How Long Does an Oil Change Take?
When you bring your vehicle in for an oil change at the Don Johnson Motors service center, you can expect the service to take less than an hour. However, this estimate can vary depending on how busy our service department is at the time of your visit. For a better idea of wait times, contact us today. To help save time, you have the opportunity to schedule a service appointment online or by phone.
---
How Long Should an Oil Change Take If I Do It Myself?
How long should an oil change take? If you are planning to perform an oil change for yourself, this can vary depending on how familiar you are with this maintenance task. You'll want to budget at least an hour, although an oil change could take more or less time than that. If you are going to attempt this service at home, there are a few supplies you will need before getting started. An oil change requires new oil, a new oil filter, a new oil filter gasket, a rubber mallet, correctly sized wrenches, a jack, and wheel blocks. If you do not have these items on hand, it may be quicker and more affordable to bring your vehicle to Don Johnson Motors for service.
---
Trust Don Johnson Motors for Affordable and Reliable Oil Changes
At Don Johnson Motors, oil changes are quick and affordable. Set up your next appointment at your convenience or contact us with any questions. We are your source for automotive service tips.
---
More From Don Johnson Motors
It's that time of year when there's a nip in the air, beautiful colors on every tree, and lots of fall fun to be had. The pumpkin patches near Rice Lake have it all, from hay rides to corn mazes and animal petting zoos. Take a break from football and bring the whole family out to…

There are truck bed sizes, and truck bed dimensions and each is a little different from the other. The dimensions, or measurements, of a truck bed will depend on the size you choose. Common truck bed size options include short beds, standard beds, or long beds. Don Johnson Motors is here to help you choose the right…

It's no secret that the Chevy Silverado is one of America's most-revered vehicles. Indeed, here in greater Wisconsin, many of us pride ourselves on our brand loyalty. Sometimes, an upgrade is simply nice. Well, in the case of the 2022 Silverado vs. 2021 Silverado, you'll be glad to know that this truck delivers the…