How Long Can You Drive on a Spare Tire?

It happens to everybody. You're driving along a Rice Lake road and start to hear the "whap, whap, whap" noise and feel the ride getting extra bumpy. You know what that means. You have a flat tire. Fortunately, your car has a spare. If you're short on cash, you might be thinking that the spare tire will buy you time until you can afford a new tire. But, depending on what kind of spare tire you have, it may not have been meant to be used for very long. Don Johnson Motors wants you to be safe, so we're going to help you answer the question, "How long can I drive on a spare tire?"
---
So, Exactly How Long Can I Drive on a Spare Tire?
How long you can drive on a spare tire depends on what kind of tire it is. Is it a small donut tire or is it the same size as your other tires? The small tires are meant to be very temporary, whereas you can drive longer on the bigger tires.
---
How Long Can I Drive on a Donut Spare Tire?
Most cars that come with a spare come with a small donut tire. AAA recommends driving no farther than 50 miles. Other sources recommend no more than 70 miles. You will want to double-check by looking it up in your owner's manual. Either way, you should not exceed 50 miles an hour using this tire. These tires were meant just to get you to a shop where you can get your tire replaced. You don't want to be driving on Hayward roads with this tire for very long. New tires can be expensive, but if your tire is flat due to a puncture, you may not need to worry. As long as the tire is otherwise in good shape, you can just get the tire patched, which is usually an inexpensive procedure.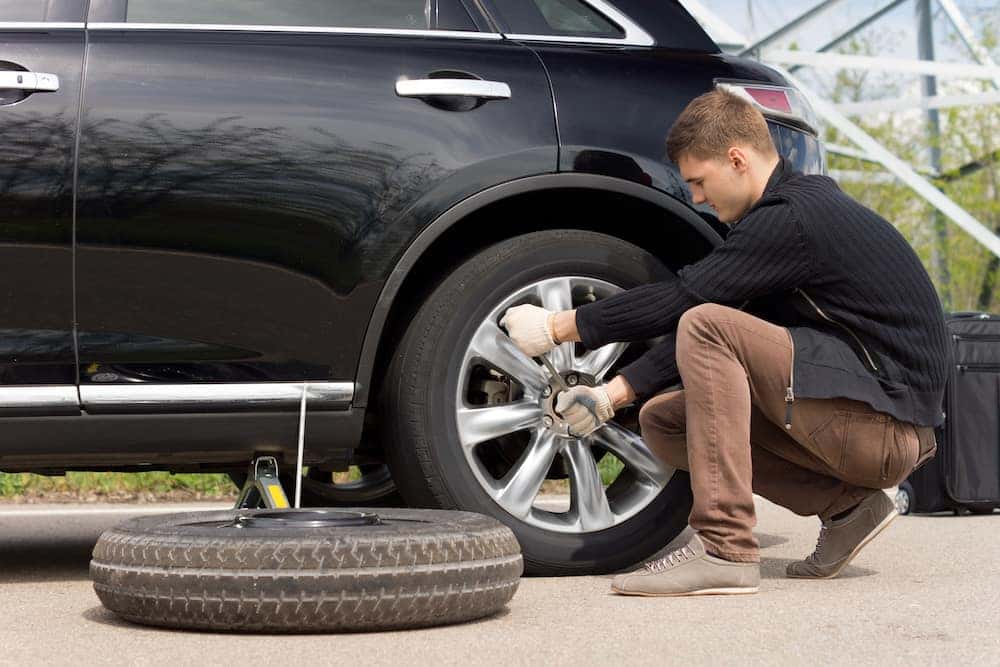 ---
How Long Can I Drive on a Normal-Sized Spare Tire?
If you own an SUV or truck, you may have a spare tire that is the same size as your other tires. This tire can usually be driven until it is worn. However, if you do this, you will be without a spare tire. Also, we recommend getting the tire changed to the rim that was holding the flat tire.
---
Schedule Service With the Tire Experts at Don Johnson Motors
There's no need to keep wondering how long you can drive on that spare tire. If your tires are giving you problems, schedule service with Don Johnson Motors, conveniently located near Cumberland. You can even make an appointment online. Don't forget to check out our service specials. And if you liked this article, check out our other service tips and tricks.
---
More From Don Johnson Motors
The all-new 2022 Ford Maverick pickup truck not only offers incredible power and handling, but great interior features, safety, and much more. For Hayward drivers who are looking for a new capable pickup truck, start by exploring the 2022 Ford Maverick specs. At Don Johnson Motors, we'll help you explore the Ford Maverick engine specs and much…

The Ford F-150 Lightning is the newest addition to the best-selling truck lineup in the United States, and this model is positively electric. In fact, the all-electric Lightning is completely gas-free for an ultra-efficient ride that doesn't compromise on strength. Take a closer look at the 2022 Ford F-150 Lightning specs below, and learn…

The new Ford F-150 Lightning offers an electric twist to one of the most popular pickup models in the world, and this gas-free trim is available in four different series to suit your preferences. From the Pro to the Platinum, which of the 2022 Ford F-150 Lightning configurations is right for you? Explore the…