Berkshire Pontoon Boats vs. Bennington Pontoon

Few could have predicted the sharp growth in pontoon boat popularity in northwestern Wisconsin seen over the last few years. Nowadays, people aren't asking themselves why they should buy a pontoon boat — instead, they're simply deciding which pontoon boat would best suit their needs. That starts by determining the right manufacturer, and the lion's share of interested shoppers end up comparing Berkshire pontoon boats vs. Bennington pontoon boats.
What they tend to find is that Berkshire offers:
Superior performance
A stronger blend of substance and style
What Makes a Berkshire a Better Boat?
Innovations in power delivery were a key development behind the rise of pontoon boat popularity, and Berkshire takes full advantage by offering Mercury outboards rated at up to 300 hp, plus a variety of performance advances that see them solidly outclassing Bennington rivals:
52-Inch Diameter CenterNose: That's 4 inches wider than the industry standard. As such, Berkshires provide enhanced speed, hydrodynamics, fuel consumption, and riding comfort.
Roll-Formed Aluminum Underdeck Performance Skin: Expertly manages water and airflow for exceptional agility, durability, and overall performance.
Whether you want to head out water-skiing or simply cover the water around Rice Lake, Hayward, or Cumberland with added speed and style, a Berkshire pontoon boat should speak to you. In contrast, a Bennington pontoon boat will seem to concentrate a little too much on looks and not enough on substance.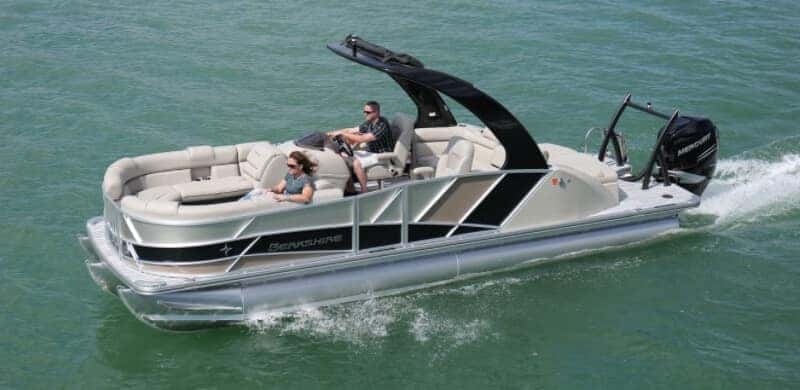 Service
Berkshire Pontoons is part of Forest River Marine, which has been operating since 2009 to become one of the largest recreational vehicle manufacturers in the country. Forest River, their parent company, is the largest recreational vehicle manufacturer in the world.
What does that mean for buyers? It means you can expect outstanding service, plus a wide network of service centers and a rich array of parts and accessories if your craft is ever damaged. Unfortunately, Bennington isn't part of that elite group.
Find Your Berkshire Pontoon Boat at Don Johnson Motors
Here at Don Johnson Motors, we only align ourselves with the best — whether you're looking for a new or used pontoon boat, we're confident we can provide a top-of-the-line model. Contact us today to find out more.