2019 Ram 1500 vs. 2019 Honda Ridgeline
Comparing2019 Ram 1500 vs. Honda Ridgeline is like comparing a tiger against a housecat, and a timid housecat at that. Whether you're looking attow ratings, features, or horsepower, the Ram truck utterly outclasses the Honda pickup.
Power and Performance
The 2019 Honda Ridgeline offers a single 3.5L V6 for up to 280 hp and 262 lb-ft of torque, plus an outdated six-speed transmission.
The 2019 Ram 1500's engines leave it in the dust:
Power is refined through a class-exclusive standard TorqueFlite 8-speed transmission for optimal power delivery whether you're towing heavy between Rice Lake and Hayward or changing into the fast lane on your way to Cumberland.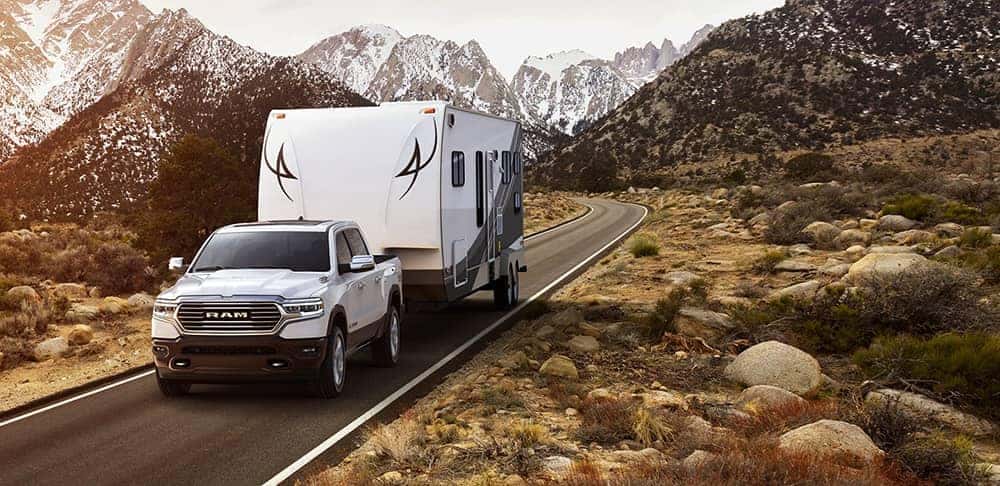 Payload and Towing
The 2019 Honda Ridgeline's laughable lack of power means it would pull itself to pieces trying to match Ram 1500's capability. Just check out how their towing and payload ratings compare:
Max Towing: Up to a best-in-class 12,750 pounds with the Ram vs. just 5,000 pounds with the Honda.
Max Payload: Up to 2,300 pounds with the Ram truck vs. just 1,569 pounds with the Honda pickup.
Interior Space and Technology
The 2019 Ram 1500 offers a best-in-class interior storage volume of 151.1 liters, class-exclusive in-floor storage, and a class-exclusive reconfigurable center console.
Alongside incredible practicality, you'll find high-end technology that's entirely unavailable with the 2019 Ridgeline, including:
Largest-In-Class 12-Inch Touchscreen: Provides a more immersive experience and easier control whether you're changing music or using the GPS navigation system. The Ridgeline's best is an 8-inch screen.
Harman Kardon Premium Audio System: This is the most powerful audio system in its class and includes a best-in-class 19-speakers. The Honda Ridgeline offers up to just 7 speakers.
The 2019 Ram 1500 Dominates Light Pickup Truck Comparisons
Next to the 2019 Ram 1500, the 2019 Honda Ridgeline feels more like a toy than a genuine light truck. If you'd like to find out more, talk through financing options, or arrange a test drive, simply contact us today.
Interested in a more powerful pickup? Compare the 2019 RAM 1500 vs. 2019 RAM 2500 with our team.