2022 Jeep Wagoneer Interior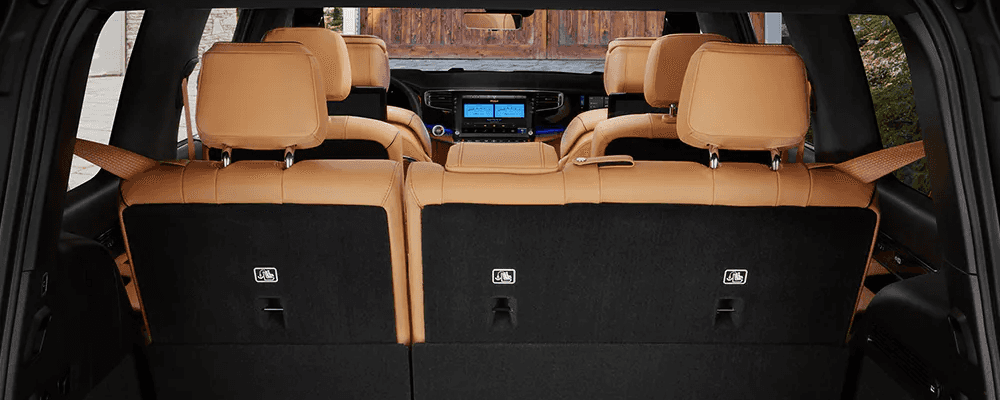 For those who are looking for a little more out of their SUV experience, consider a brand new development in the SUV market: the 2022 Jeep Wagoneer luxury SUV. When you climb inside the 2022 Jeep Wagoneer interior (or its sister model, the Grand Wagoneer), you're getting a truly luxurious experience in Hayward, Cumberland, or Rice Lake, WI. Don Johnson Motors is here to walk you through everything from the Jeep Wagoneer seats to the Jeep Grand Wagoneer 3rd-row seat, so keep it here! Also know that, when the 2022 Jeep Wagoneer and Grand Wagoneer debut, we'll be here to help you finance your purchase or lease!
2022 Jeep Wagoneer Interior Technology
Jeep has a more luxurious, well-appointed vision in mind when it comes to the 2022 Jeep Wagoneer interior. The Wagoneer has the option of selecting 12-way power-adjustable Jeep Wagoneer seats for the front row while in the Grand Wagoneer, you have an absolutely luxurious 24-way power-adjustable seating available for purchase.
We're sure you've seen minivans and SUVs in Cumberland or Hayward that have seatback screens for entertainment. The 2022 Jeep Wagoneer interior gives you sleek, flat panel displays for the second row with available Amazon Fire TV integration so you can cast your entertainment to the screens.
2022 Jeep Wagoneer Seats
The Wagoneer and Grand Wagoneer offer smart seating arrangements for everyone. You've got three rows to work with on both models and the Jeep Grand Wagoneer 3rd-row seats fold flat for a more efficient cargo experience. The 60/40-split folding 3rd-row seats go down at the press of a button, meaning you don't have to fiddle around with anything mechanical to maximize your cargo space. And with best-in-class space behind the third row, you've got more room than anyone else to get those groceries inside your Rice Lake, WI SUV.
Let Don Johnson Motors Make Your Jeep Dreams a Reality
Here at Don Johnson Motors, you can be one of the first in line to get your hands on the all-new 2022 Jeep Wagoneer and Grand Wagoneer. If you're in the mood for one of the other new vehicles in the Jeep lineup, you can count on us to give you a great selection and prices that fit your budget. Contact us today to get the conversation started.
More About Jeep Models
You've heard that the 2022 Jeep Wagoneer and Grand Wagoneer are two of the most luxurious full-size American SUVs to grace the market in Cumberland, Hayward, or Rice Lake, WI. However, do you know exactly what they offer? This piece is here to provide you with a detailed explanation of the 2022 Jeep Wagoneer configurations!…

The Jeep Gladiator has been on the Jeep enthusiasts radar for a while, and it's finally arrived! It can tackle any road around Rice Lake with confidence and ease. The Jeep Gladiator is Trail Rated®, however, what about the Gladiator towing capabilities? How much can a 2021 Jeep Gladiator tow? Let the experts at Don Johnson Motors…

For those who are looking for a little more out of their SUV experience, consider a brand new development in the SUV market: the 2022 Jeep Wagoneer luxury SUV. When you climb inside the 2022 Jeep Wagoneer interior (or its sister model, the Grand Wagoneer), you're getting a truly luxurious experience in Hayward, Cumberland, or…